A. Bring your fake ID's if they're decent they'll work.
B. Doors open at 9 and close at 10:30 for anyone under 18-21. 21+ can get in 9pm - whenever.
C. There's a maximum of 250 18-21 year olds. So if we hit 250 by 10:00 that's it.
D. It's 10$ at the door for 18-21 year olds.
click on the flyer to rsvp to get in for free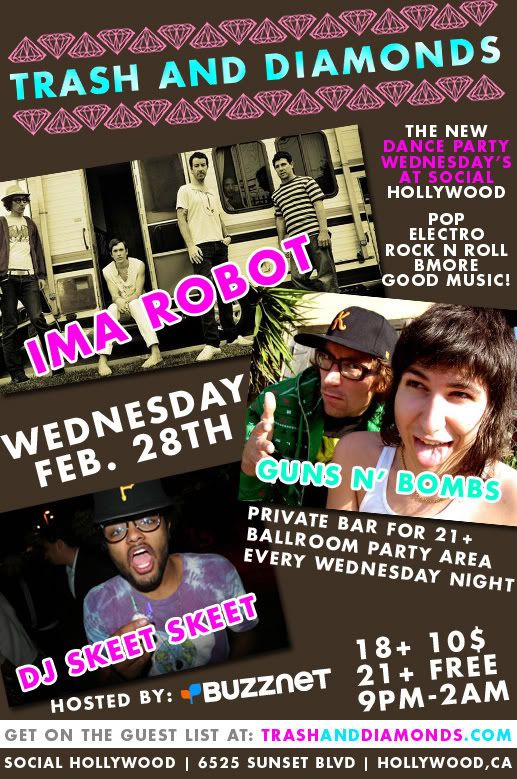 be sure to put guest of guns'n'bombs to get in for free
GUNS'n'BOMBS
are totally one of the best things to come out of los angeles in a hot minute. It is very rare for me to actually want to rep anyone coming from my hood so trust that this is a big deal for me. They are a duo consisting of JOHNNY "GUNS" LOVE and Filip Nikolic from ima robot who I saw dj one nite after chromeo. He spun jacques lu conts remix of cassius's feeling for you and after that I knew I would like whatever he was involved in,aside from ima robot(although they do have a jam that I love, std dance). Electro / Club / Thrash is what their myspace lists them as, and since im not really into defining people by a genre I will say that it complety accurate.
They have a wonderful single that is out on kitsune<333 that everyone should rush out and buy especially after you listen to crossover appeal and realize how much you didnt know you loved them yet. They have also made my favorite
teenagers
remix,and if you hit up their myspace they have some rad mixtapes up as well,perfect for woking out to.
Anyways Im hitting up the show tonite,getting my drink and boogie on and probably a lot of hating on peeps in la,I wish my friend jack was coming with me.
Teenagers-Homecoming (Guns'n'Bombs 1996 XTC Remix)
guns'n'bombs-crossover appeal